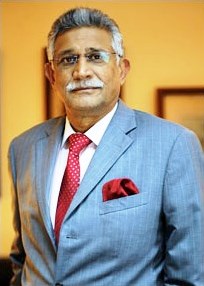 SUBHAS CHANDRA LALLAH
Email Contact
Subhas was born in 1945 and comes from a family where the legal profession held a major importance. He is married with three children, all practicing members of the legal profession. The Lallahs have been legal professionals in Mauritius since 1903 when Boodhun Lallah was sworn as the first Indian solicitor. His grandfather, the Honourable Dhunputh Lallah was sworn as a solicitor in 1913 and was the first Indo Mauritian to be elected to the Legislative Council in 1926. His cousin brother, Judge Rajsoomer Lallah, was the Chief Justice of Mauritius and was also the Chairman of the Human Rights Committee of the United Nations and was actively involved with the Human Rights matters until his demise.
Subhas read Law and Political Science in England and was sworn in as a Barrister at the Bar of England and Wales in 1970. He is a member of the Honourable Society of Lincoln's Inn. He was called to Mauritian Bar in 1971. Subhas is a Senior Counsel of the Republic of Mauritius.
His present law practice involves litigation and arbitration practice specializing in corporate, insurance and commercial work. He also provides corporate legal advice and opinions to reputed local and international companies, hedge funds and banks. Furthermore, he is the legal adviser to companies in the Global Business sector/Offshore sector and to Governmental and parastatal bodies.
He is an independent Director of Mauritian Eagle Insurance Company Ltd, Mauritian Eagle Leasing Co Ltd and Deutsche Bank Offshore Mauritius Ltd. He was the former Chairman of the National Transport Corporation and the former member of the Board of Governors of the Mauritius Broadcasting Corporation. At the request of the Mauritian Government, he also chaired a Commission of Enquiry reviewing the Education System at the Stratford College in Mauritius.
Subhas was a Member of the Mauritian Legislative National Assembly during the period of 1982 until 1995. He held the position of Deputy Chief Whip and Deputy Speaker of the Legislative National Assembly during that brief spell in active Politics.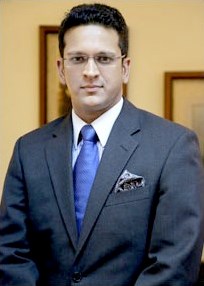 MITHILESH LALLAH
Email Contact
Mithilesh was sworn in as a Barrister at the Bar of England and Mauritius after graduating from the University of Nottingham with honours and having completed the Bar Vocational Course at the BPP College of law in London.
His main areas of practice include advisory, transactional and litigation work in the fields of corporate, commercial, construction, fund and financial services law.
He acts as legal advisor and consultant to a number of authorities, governmental institutions, private institutions and corporations in a number of sectors.
His experience also includes public and private M&A, credit, restructuring, bankruptcy, fund formation and company wind ups. Mithilesh actively works on a number of arbitrations and litigations involving corporate, commercial and construction law disputes. He has worked on the setting up and structuring of a number of Public Private Partnership contracts relating to sizeable infrastructural contracts in Mauritius.
Mithilesh is also an Independent Director on a number of Boards which include private equity companies, power companies, technology companies and telecom companies.
He is a member of the Honorable Society of Lincoln's Inn, the Chartered Institute of Arbitrators and the Round Table.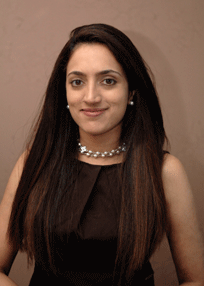 NATASHA Y. LALLAH
Email Contact
Natasha read Law in the UK at the London School of Economics and Political Science (LSE) and was called to the Bar of England and Wales at the Honorable Society of Lincoln's Inn after completing her Bar Vocational Course at the BPP College of law. She was also called at the Mauritian Bar.
Her main areas of practice are in Banking, Corporate, Insolvency, Tax, Financial Services, Funds and Investments.
She has advised numerous Financial Institutions and Mauritius based funds on a number of Cross Border Transactions involving the African and Indian Markets.
She also acts regularly as Mauritian Counsel in various transactions including Structure Financing and Derivatives transactions.
Lallah Chambers is a specialized service law practice, which caters for the needs and demands of our clients. We provide an efficient, prompt and effective response. We believe in providing clients with pragmatic solutions.